Should Old Acquaintance Be Forgot
The D-Train #17
I wrote my last D-Train newsletter of 2019 right before Christmas, filled with melancholy and malaise, imagining myself going through the motions of celebrating a holiday I would rather be forgetting.
But the strange thing is, that's not how it turned out at all.
I have never put up a Christmas tree by myself, and by December 23rd, this is what was happening in my living room: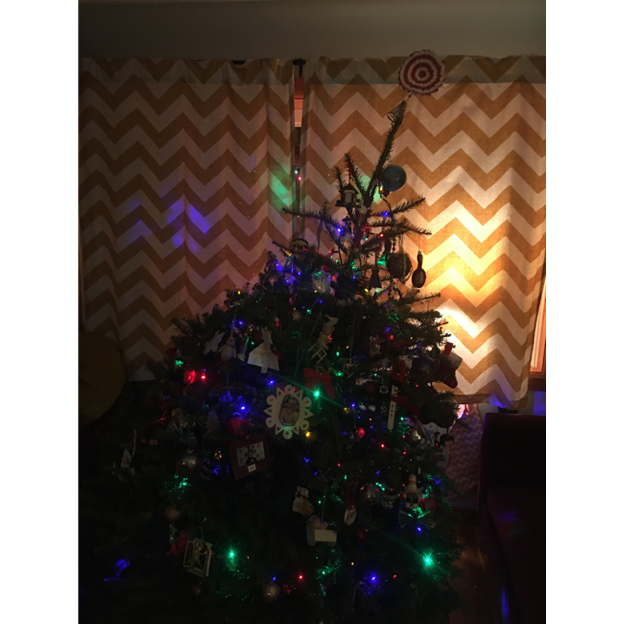 I had a good few moments of feeling completely defeated by it all, and was saying, fuck it, if the damn tree falls down we will open presents in front of the tv. I HAVE REACHED MY LIMIT. I'm not good at putting up Christmas trees by myself, and maybe this is just the year in which we gather 'round the Christmas tree corpse.
But instead, I did a thing. I got out some yarn and I tied it to the tree. I attached that to a lamp cord hook in the ceiling. I tightened the knot, and said a little prayer to Santa (that's how that works, right?) that the tree just stay standing for two more fucking days, please, give me a break.
And you know what? The yarn worked. The tree is still standing tall on January 2. I'll officially take it down on Saturday morning, and it looks like it's going to make it all the way through. I did it. I saved the tree.
And you know what else happened? The holidays did not suck.
We had an amazing, relaxed, low-key Christmas morning. The kids loved their presents. We listened to Phil Spector's Christmas album. We ate apple fritters. The dog and cat behaved. There was nothing to complain about. It was the best Christmas in years.
Huh.
Fancy that.
In the afternoon, we went to my mom's house. My teenaged niece and nephews played with my kids all day. I had a couple of beers. I didn't get my handheld vacuum, but my kids and I won $14 in the annual family lottery ticket extravaganza. I rode around my mother's retirement community on an electric scooter while drinking a glass of wine. It was warm out and I didn't need my coat. It was a goddamned helluva ride.
My brother fixed my windshield wipers and helped me adjust the baby's car seat. My sister gave me a Target gift card so that I could replace some of the shit my ex took with him when he left. I got knives and a wok and I realized, shit, I don't need any of the things he took at all. It never mattered at all.
After Christmas, I drove back to New York and both kids slept the whole way. I put together the little trampoline my mom got for my son. I put batteries in the toys that needed them. We played together in the basement playroom for hours. It's a playroom again. It's messy and filled with toys, and the kids love it. It's a happy place now.
I didn't have to work all week, and had my kids with me for most of it. When they left to go back with my ex, I did some cleaning up around the house. I burned some sage. I opened the windows, and swept out the entryways, whispering, be gone, bad emotions. Be gone, terrible people. Be gone, unhappy spirits.
New Year's Eve last year was really the end of my marriage. We had a fight, and we really never spoke to each other again. I thought that this year it was going to be filled with too many painful memories that it would be unbearable.
But that's not what happened.
I woke up on New Year's Day feeling amazing. I had the best New Year's Day I ever could have imagined.
There's still a lot of dark places in my heart. But so far, so good 2020.
So far, so good.
Love,
Amy Blair
***
Jenny Lewis is my queen. Listen to this song all the way to the end.
Wink, wink.